I am a father of three wonderful children, Demetra, Sophia, and Janse (all poised to be physicians) and the husband of a great wife, Theodora, to whom I have been married for 28 years.  As a retired Navy Commander, I have witnessed the delivery of health care in many different settings and I have participated in women's health care now in Burlington, NC since 2001.  I enjoy the diversity of my profession from caring for young healthy pregnant women, to menopausal females, to complicated patients with life threatening diseases.  As a Board Certified Ob/Gyn, my training has been broad and thorough which has allowed me to offer a variety of treatment plans including minimally invasive surgeries for heavy menstruation, to corrective procedures for prolapse and surgery to repair urinary leakage.  I have a passion for exercise and staying fit and I try to help my patients to do the same.  I would be honored if you chose me to be your doctor.
Undergraduate:
Franklin and Marshall College, Lancaster, Pennsylvania
Medical School:
Uniformed Services University of the Health Sciences, Bethesda, Maryland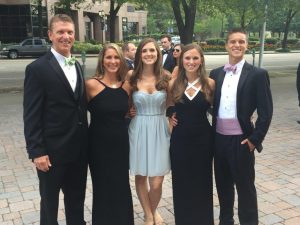 Internship:
U.S. Naval Medical Center
Flight Surgeon Training:
Naval Aerospace Medical Institute
Residency:
U.S. Naval Medical CenterFamily
San Diego, California 1993-1996
Professional Organizations:
Diplomat American Board of Obstetrics and Gynecology;
Fellow, American Board of Obstetrics and Gynecology;
Participation in Clinical Trials (Research)
Publications:
Clinicopathologic Variables Predictive of Residual Dysplasia After Cervical Conization. Journal of Reproductive Medicine. April 1997. (Lead Author)
Clinical Interests:
Obstetrics: high risk pregnancies including insulin dependent diabetics, thyroid disease, history of preterm labor, pregnancy induced hypertension, genetic amniocentesis, multiple gestations, history of fetal loss, first trimester genetic screening.
Gynecologic: menstrual irregularities, osteoporosis, decreased sexual drive, urinary incontinence, abnormal pap smears, breast cancer risk and treatment options, pelvic pain including endometriosis, treatment for infertility, recurrent pregnancy loss, fibroid tumors and ovarian cyst treatment, polycystic ovarian disease and excessive hair growth.
Surgical: minimally invasive treatment options for heavy uterine bleeding including endometrial ablation, tension free vaginal tape for treatment of urinary incontinence, repair of prolapse vaginal tissue, hysteroscopy, laparoscopy and hysterectomies.